It's bear's birthday tomorrow. His head is full of excitement. How will he ever get to sleep? Bedtime stories, of course – stories that weave together tales of spring, summer, autumn and winter. Down in the shed at the bottom of the garden, someone is busy writing . . .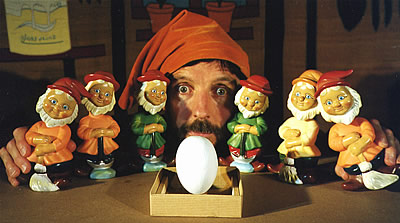 Amidst the snow-white sheets and the odd socks of an everyday wash, lie the stories that reach to the heart of a child's imagination.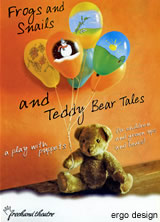 A gentle play, written by Lizzie Allen and performed by Simon Hatfield, which explores themes of time and the seasons, story making and birthdays.

The production is enhanced by the work of textile designer, Gill Lightfoot, and by the original music of the late composer, Mark Vibrans, whose credits included work for the National Theatre, Birmingham Rep and the Royal Shakespeare Company.
Guest director: Rene Baker.

"The performer had all the children as well as the adults in the palm of his hands. The performance was even better than we had anticipated"
Promoter, Lincolnshire Rural Touring

"It was a privilege for me to watch the show and to see not only children but staff being absolutely captivated by your highly imaginative and beautifully produced performance. The level of concentration, even from the very youngest in the audience, bore testimony to their engagement"
Arts In Education Officer, East Riding


"It was fabulous. You held the attention and liberated the imagination of all the children watching. Your show was undoubtedly the best I've seen from any theatre company for several years. I believe the benefits of your work are enormous for the children on estate schools like ours"
Deputy Head, Ryecroft Primary School, Bradford, Yorkshire